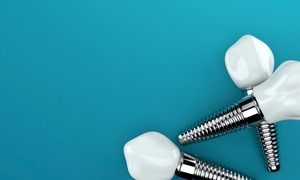 "Getting dental implants" means something different for every patient. Will you only require one dental implant post? Or do you need to have several placed throughout your mouth? The answer will vary depending on your circumstances, and your dentist will need to figure it out before the process can move forward. The post below provides an overview of how many dental implants in Parker you might need.
Determining the Right Number of Implants
One of the most important factors in determining how many dental implants are needed is the number of teeth that need to be replaced. If you've only lost a single tooth, then you'll only need one implant post topped with a crown to fill in the gap. But if you've lost three or more teeth in a row, at least two dental implant posts will have to be used to support a bridge.
When it comes to dentures, the number of implants needed to support the final restoration could be as little as two or as many as eight. The exact amount depends on several factors, such as:
The Jaw Being Treated: The bone in the upper jaw is softer than that found in the lower jaw. As a result, dentures for the upper jaw typically require more dental implant posts to keep them stable.
The Amount of Bone Available: The amount of bone in your jaw determines how long and wide your dental implants can be. Longer implants are more stable, so fewer posts are required when bone density is high.
Your Chewing System: The strength of your jaw muscles affects how much pressure they put on your implant posts. If your jaw muscles are unusually strong, then more dental implant posts will be needed to distribute the forces of your bite in a way that won't damage your new teeth.
Whether the Dentures are Fixed or Removable: Fixed implant dentures tend to require more implant posts than removable dentures. For example, a removable denture for the lower jaw can be supported by a minimum of two posts; a fixed denture requires at least four.
How Will You Know the Right Number of Implants?
The only way to know for sure how many dental implants you need is to schedule a consultation with your dentist. They'll consider the relevant factors (the number of missing teeth, jawbone density, and so on) before giving you an overview of what the implant process will look like and how many posts will be required.
No matter how many dental implants you get, you can count on them to set the roots of a dazzling smile that feels as natural as it looks. Reach out to your dentist today to start the implant process!
About the Author
Dr. Rodney L. Allen has been providing Parker with exceptional dentistry for 20 years and counting. He's partnered with some of the best dental implant experts in the area so that his patients can replace all of their missing teeth from the roots up. If you'd like to schedule a dental implant consultation with Dr. Allen, visit his website or call (720) 851-6784.