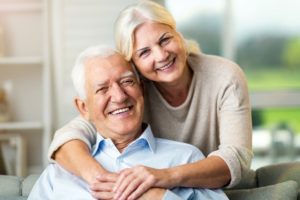 When it comes to dental restorations, the success of your treatment is dependent on your oral health and bone density. Though implants replace missing teeth for patients of all ages, some older prospective patients begin to have doubts. Once they reach a certain age, some may begin wondering whether restorations like dental implants will work for them. Keep reading to find out whether age can affect the success of restoration treatments.
What are Dental Implants
An implant is a titanium post that is permanently inserted into the jawbone to replace the root portion of a missing tooth. The jaw bonds with the post during the healing process, making the implant a permanent fixture in your mouth. A porcelain or ceramic crown that looks very similar to the surrounding teeth is then placed onto the post, fitting in seamlessly with the rest of your smile.
The Success Rate of Implants
Depending on the area of the jaw where implants are placed, the success rate can vary. But typically, they carry up to a 98 percent success rate, which is the same for both mature and younger patients. While age can put someone at risk for developing gum disease and bone loss, implants are generally very effective and long-lasting solutions for missing teeth.
Good Candidates for Dental Implants
When mature candidates are evaluated for this dental restoration, dentists often take the following factors into consideration:
Bone health and density
Dental Health
Current medication
Overall Health
The average healing timeframe for implant surgery is between 6 and 9 months, but the healing process for seniors is often done at a slower rate. This means that rather than waiting 3 months to place the crown on the implant, the dentist may wait 4 months. This is likely the only difference in the healing process for seniors. Just like younger patients, there may be discomfort for 3 to 5 days after the implants are placed.
Benefits of Implants for Seniors
Implants can truly change the lives of older patients. by making it easier to eat, allowing them to get proper nutrition, which will help make their teeth and gums healthier and stronger. They can also make socializing with family and friends worry-free, as there are no dentures that run the risk of slipping or falling out. This allows seniors to lead the healthy, active lifestyles they deserve.
Implants can improve patients who range in age from age 19 up through age 99. Many patients who opt to get this restoration have described it as life-changing. If you are considering a dental restoration, your dentist can help you decide if implants are right for you.
About the Author
Dr. Rodney Allen has been transforming smiles for more than 20 years. He is dedicated to providing his patients with exceptional, personalized dental care in a comfortable environment. He earned his Doctor of Dental Surgery at Baylor College of Dentistry and has participated in multiple continuing education programs, including courses in implant dentistry. If you're ready to restore your smile, contact the office at (702) 851-6784 or visit the website to schedule an appointment today.