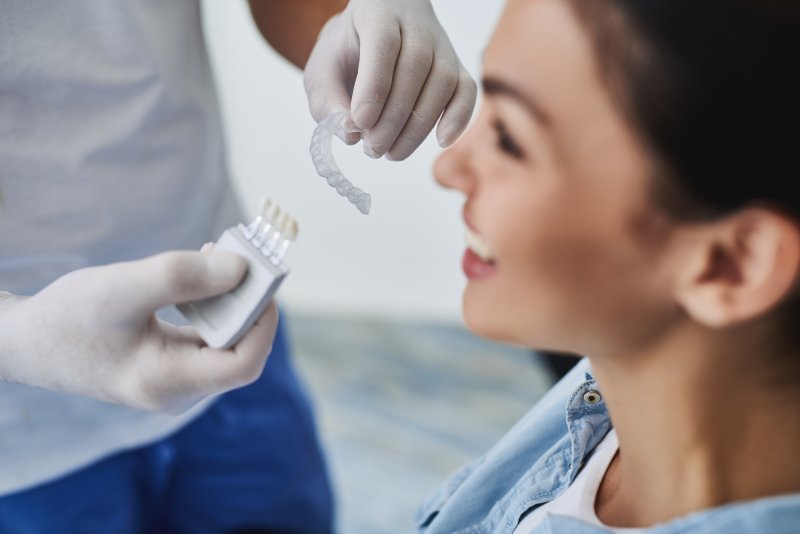 As you might know, Invisalign has much to offer compared to traditional braces. Not only are its trays metal-free and removable, but they're also nearly invisible to the eye. Even with such features, though, you may want to know the Invisalign timeline before you commit. After all, a treatment's duration can affect whether it's right for you. That being the case, your Parker dentist is here to help. Read on to learn how long Invisalign takes, what impacts its timeline, and how to shorten its process.
How Long Does Invisalign Take to Work?
A good rule of thumb is that the average Invisalign treatment takes 12 months. Its trays often need that amount of time to shift teeth into place. Still, most patients will see noticeable changes within 4 to 6 weeks of starting this process.
However, keep in mind that each patient is different. Therefore, your own Invisalign journey may require more or less time. To know more precisely how long it'll take, consider consulting your local dentist.
What Impacts its Timeline?
As for what factors impact your Invisalign timeline, there are many to consider. In general, though, the most common ones are:
Misalignment Severity – Mild crowding and tooth gaps don't take much time to correct. On the other hand, severe misalignment problems require in-depth changes. In fact, some treatments can take up to 18 months when the teeth have to move more than usual.
Treatment Compliance – Invisalign is only effective when you wear its trays for the suggested daily time. If you don't, you'll likely extend the aligning process by several months or more.
The Patient's Age– A teenage patient will have teeth that move more easily than those of an adult. While that fact doesn't mean Invisalign won't work for older patients, it does mean the process will go on longer than it might otherwise.
How Can You Shorten the Invisalign Process?
To get the most out of your treatment, you'll need to avoid issues that could delay its progress. The ways to do so include the following:
Meet Your Invisalign Wear Time: To ensure treatment stays on track, wear your aligners for 20-22 hours daily.
See Your Dentist Often: With regular checkups, your dentist can measure your Invisalign progress and replace trays as needed.
Keep Your Teeth Clean: Oral health issues will delay treatment, as they may need correction before you can wear Invisalign trays.
In the end, Invisalign shouldn't use more time than other orthodontic services. That said, remember to follow the tips above so it goes as quickly as possible.
About the Author
Dr. Rodney Allen is a dentist based in Parker, CO, having earned his DDS from the Baylor College of Dentistry. He's provided exceptional dental care in Colorado for twenty years and counting. As such, the man is highly experienced in preventive, cosmetic, and restorative dentistry, not to mention emergency procedures and Invisalign clear aligners. Dr. Allen currently practices at his self-titled clinic and is reachable on his website and by phone at (720)-851-6784.