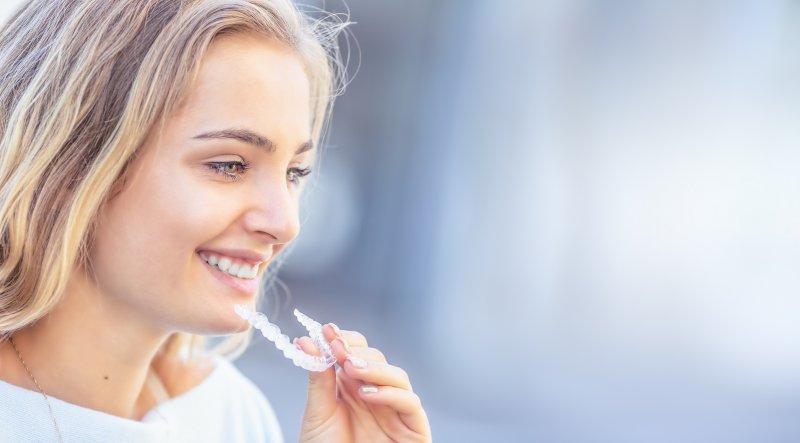 People who love their Invisalign tend to talk about how good they look compared to wire braces. They're so discreet that most people won't even notice you're wearing them until you mention it. That said, there are other benefits that give Invisalign the edge over wire braces. Here are some often overlooked reasons to consider clear aligners.
#1: No Diet Restrictions
Wire braces come with a laundry list of foods you'll have to stay away from. Say goodbye to chips, candy, and chewy meats for the next two years. Of course, cutting back on these foods will always be good for your teeth, but getting rid of them all together can be a tall order for some people. Fortunately, Invisalign trays can be taken out whenever you eat, so they don't come with any dietary restrictions.
#2: No Discomfort
Your dentist is very conscientious of how your braces will feel when they're in your mouth, and they'll be happy to address any irritation you might be feeling. That said, it can be easy for a wire to poke out slightly between appointments, causing some discomfort. Even in the best case, you'll probably have to deal with applying dental wax to problem areas. Invisalign trays fit snugly against your teeth, so there's no risk of discomfort.
#3: Fewer Dentist Visits
Wire braces are incredibly intricate, with each bracket being carefully affixed to a specially crafted wire that pulls your teeth into place. They're really impressive when you take the time to look at them. However, their complexity means that they need to be checked on fairly often; more parts mean a greater susceptibility to failure. They also need to be manually tightened to produce results.
The simplicity of the Invisalign trays' design means they require less supervision from your dentist. You'll still have to check in every few weeks to ensure things are progressing nicely, but you'll probably need fewer appointments than the alternative.
#4: Less Time to Completion
The tough thing about keeping your smile straight is that every tooth is dependent upon each other in its positioning. Wire braces put pressure directly on each tooth by having the wire pull on the bracket. Unfortunately, this has the drawback of moving every tooth independently from the other. Invisalign, on the other hand, moves your teeth in unison, with the result being that you'll get results slightly faster than you will with traditional braces.
As you can see, there are plenty of reasons to consider Invisalign that have nothing to do with appearances. Their versatility and convenience speak for themselves.
About the Author
Dr. Rodney Allen is a general dentist with over 20 years of experience in his field. In that time, he's learned oral healthcare isn't just about treating your teeth; it's about promoting good health in every part of life. He also prides himself on his ability to wield the latest in dental technology to the benefit of his patients. Dr. Allen received his Doctor of Dental Surgery from the Baylor College of Dentistry, and he continues his education to this day. If you have any questions about Invisalign, he can be reached at his website or by phone at (720) 851-6784.