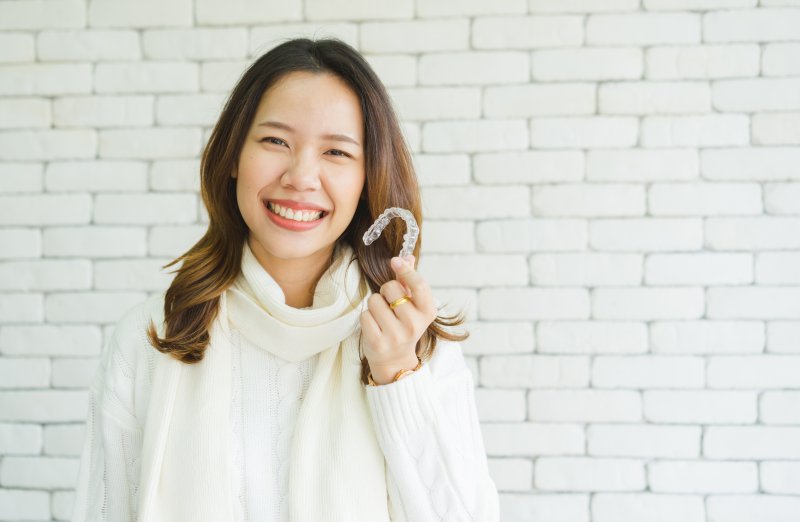 One of the most popular and discreet methods for achieving perfectly straight teeth is Invisalign. By wearing clear aligners instead of metal braces, you'll be able to quickly and more comfortably create a uniform smile that you can show off throughout your treatment. That said, you might consider doing some research about the process before jumping on board. Read on to learn five things you should know before starting Invisalign!
#1: You'll Need to Brush & Rinse Often
Without clear aligners, you should brush your pearly whites two times a day. During your treatment process, you'll need to clean both your teeth and your Invisalign trays after every meal or snack. This will prevent food particles and plaque from accumulating and getting stuck between your smile and aligners. The last thing you'd want is to risk dental decay that'll setback your progress.
#2: The Recommended Wear Time Is 22 Hours
Invisalign aligners are completely removable, meaning you can enjoy all your favorite meals throughout the process. However, you'll need to wear them for about 22 hours a day, only leaving room for removing them before eating and brushing your teeth. Since your smile will only move gradually with constant pressure, you must wear them as long as possible throughout the day to meet your treatment timeframe.
#3: You'll Have to Avoid Rinsing with Hot Water
While hot water can help clean surfaces and remove debris, it can be quite detrimental to your Invisalign trays. Clear aligners are constructed out of heat-sensitive dental plastic. If you rinse them with hot water, you can end up warping them and causing them to be ineffective. Make sure to only use cold or lukewarm water.
#4: You Might Require Attachments for Your Treatment
Some patients may have more complex bite misalignment issues. If this applies to you, then you might expect to need attachments or "buttons" bonded to your teeth. These will give your aligners the extra grip to maneuver your bite into a more ideal position.
#5: "Refinement Aligners" May Be Necessary
Even if you've completed your orthodontic treatment, some patients will need extra "refinement aligners" that can help shift certain pearly whites that haven't straightened out entirely. While this may add a few more weeks to your process, this will ensure that you're 100% satisfied with your result.
Invisalign clear aligners are one of the most effective orthodontic treatment options, and they can often straighten your smile quicker than traditional braces by several months! Speak with your dentist if you're interested, and they'll be glad to determine the best way to correct your bite and ensure you have a stress-free experience.
About the Author
Dr. Rodney L. Allen earned his dental doctorate from the Baylor College of Dentistry. He also regularly seeks continuing education to refine his skills and expertise. He offers a wide selection of high-quality and comprehensive services, including Invisalign. If you'd like to schedule a consultation, visit his website or call him at 720-851-6784.