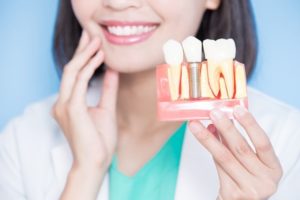 Considered the gold standard for replacing missing teeth, dental implants are able to restore lost teeth in terms of both look and feel. And upon receiving them, patients are gifted with a beautiful new smile that also functions better than before! However, if you have missing teeth that you need replaced, you might be concerned about the cost of receiving dental implants. Here's more from your dentist in Parker about why they're absolutely worth their cost.
What Are Dental Implants?
Dental implants are titanium posts that are surgically embedded into your jawbone to restore lost teeth. Since they're implanted into the jaw, they offer many more impressive benefits compared to other tooth restoration options. While traditional tooth replacement solutions replace only the visible portion of teeth, dental implants replace the entire structure from root-to-crown.
Why Dental Implants Are Worth the Cost
Many patients aren't too thrilled with the prospect of dental work, and often, the price tag doesn't do their attitude any favors. That said, dental implants must be thought of as a long-term investment; spending money on the implants now will ensure that your oral health remains satisfactory for the foreseeable future. While there are several factors that influence the cost of dental implants, such as how many teeth need to be replaced, any additional oral surgeries that are deemed necessary, and the location of the teeth as well as the placement procedures used, the cost of dental implants is ultimately still affordable—and well worth it! It's also worth noting that while other tooth replacement options, such as dentures or bridges, are cheaper upfront, you might end up spending more over time on repairs and replacements.
6 Priceless Benefits of Dental Implants
If you're still uncertain about whether dental implants are worth their cost, here are six priceless benefits of receiving them:
Longevity – With proper care, dental implants can last for virtually a lifetime (20 to 30+ years).
Durability – The implants are made of strong, biocompatible materials that ensure a stable, lasting solution.
Versatility – Dental implants can replace one missing tooth or all of your missing teeth!
Natural-looking – The implants are custom-made for your smile, meaning they'll look and feel incredibly lifelike.
Easy-to-maintain – You don't need any special tools or equipment; consistent oral hygiene will keep your implants clean and resplendent.
Jawbone preservation – Since the implants fuse with your jawbone, they provide healthy stimulation to your jaw and prevent bone loss.
If you're concerned about your dental implant eligibility, you should speak with your dentist to confirm that you're a good candidate. Assuming you're capable of integrating implants, they're well worth the price as they're able to vastly upgrade your smile and in turn, your quality of life.
About the Author
Dr. Rodney L. Allen has proudly served patients and families in the Parker, CO area for over 15 years. Dr. Allen received his DDS from the Baylor College of Dentistry and has taken countless hours of continuing education in a wide range of fields, including several courses in implant dentistry. If you have any questions about dental implants or would like to arrange a visit, feel free to contact Dr. Allen through his practice's website or over the phone for assistance: (720) 851-6784.