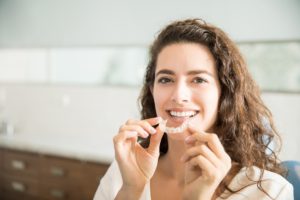 If you are ready to invest in a straight smile without any brackets or wires, Invisalign is the solution for you. Clear aligners are worn over your teeth, providing a discreet, convenient option. Unlike metal braces, Invisalign isn't attached to your teeth, so you can take your aligners out. Although this makes it easy to brush, floss, and eat, you must wear them for at least 22 hours per day. If you don't follow this rule, it can add delays to your treatment plan. Don't worry, here's how you can commit to your Invisalign wear time to streamline your journey to a straight smile. 
Commit to 22 Hours Per Day
22 hours may seem like a long time, but you must wear your aligners as much as you can. Invisalign differs from traditional braces because it doesn't rely on brackets or wires to move your teeth. Instead, a series of aligners are created from an impression of your mouth. Each aligner applies specific continual pressure to reposition your teeth gradually.
Your dentist will instruct you to wear your aligners as much as possible to finish your series on time. If you don't commit to 22 hours, less force is applied to your teeth, which will cause them to move more slowly. In some situations, treatment progression can become stagnant. Your teeth may move too little or drift back into their previous positions.
Ensure You're Wearing Your Aligners Enough
Although Invisalign is removable, they are meant to be worn at all times, despite the 22-hour rule. The guideline is in place to ensure you only take your aligners out for 3 reasons:
Eating or Drinking: Your aligners will be durable, but they can't withstand the pressure of biting and chewing. Not to mention, eating or drinking anything except water when wearing them can cause stains and increase your risk of tooth decay. You should take your aligners out when eating or drinking, and then insert them promptly after you've finished, but don't forget to brush and floss first.
High-Contact Activities: Clear aligners aren't a substitute for an athletic mouthguard. In fact, your dentist will advise you to remove them before playing any sports or participating in high-contact activities.
Cleaning: Your oral hygiene habits are crucial to a healthy smile, especially when wearing Invisalign. Remove your aligners after eating or drinking and in the morning and night to clean them. Even a quick rinse throughout the day will reduce harmful oral bacteria.
Following a few simple Invisalign tips will ensure you are wearing your aligners for the correct length of time each day. You'll achieve the results you desire quickly using an effective, sophisticated solution.
About Dr. Rodney L. Allen
Dr. Allen earned his dental degree from the Baylor College of Dentistry and has completed advanced education at Spear Education. He regularly pursues additional training in the latest treatments, like dental implants, cosmetic dentistry, and Invisalign. If you are interested in enhancing your smile with Invisalign, contact our office today to request your consultation.