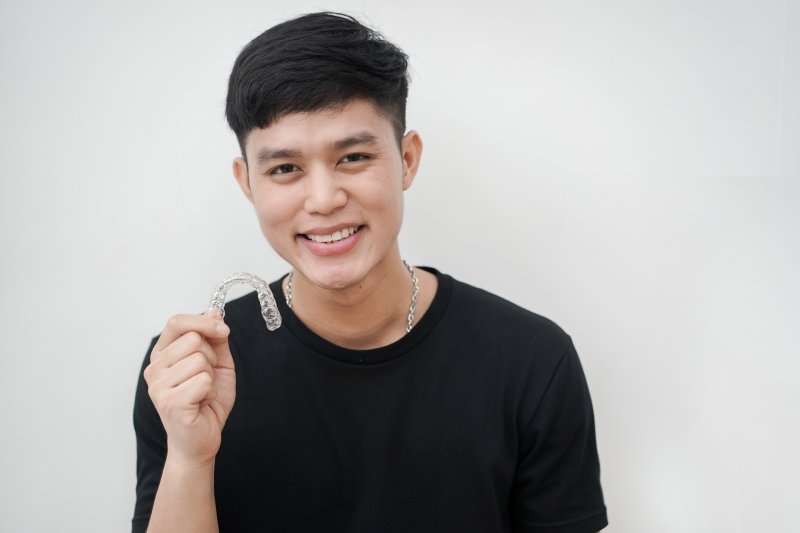 According to Invisalign's website, over 12 million people have used their aligners to achieve straighter, more beautiful smiles since the company launched in 1997. Invisalign clear aligners are a more aesthetic alternative to traditional braces and are highly effective at correcting gaps, bite issues, and more. Though these aligners are often favored by teens and adults alike, you may be wondering: am I too old for Invisalign? Read on to find out!
Why It's Not Too Late to Get Invisalign
Though many people associate orthodontic treatments with the young, there's no age limit for Invisalign. Whether you had braces as a kid or were always interested in attaining a straight smile but didn't have the time or money until now, you're not too old to speak to your dentist about undergoing treatment.
Not only is there no age limit on orthodontic treatment, but it may even benefit your oral health. Crooked, gapped, and otherwise misaligned teeth create crevices where food and debris can get stuck. This makes those areas difficult to clean, which gives oral bacteria plenty to feed on. As a result, one's chances of developing oral health issues like decay and gum disease go up. Since certain dental health issues are already more likely to develop as you get older, getting Invisalign makes proper oral hygiene one less thing you have to deal with.
Orthodontic Issues Invisalign Can Address
As previously stated, Invisalign can correct a range of orthodontic issues. From bite problems to visual problems, some of the issues clear aligners can fix include:
Underbite – The bottom teeth sit in front of the upper ones when one's mouth is closed
Open bite – The top and bottom teeth don't touch when one's mouth is closed
Crossbite – The upper teeth fit inside of the lower teeth
Overbite – The upper front teeth stick out too far
The Benefits of Getting Invisalign as an Adult
Though Invisalign treatment often seems to be geared towards for teens and young adults, there are several benefits to starting treatment later in life, including:
Better comprehension – Invisalign trays need to be worn 20-22 hours per day and properly cared for. Since older adults are investing their own time and money into the procedure, they're more likely to closely follow the treatment plan.
Responsibility – The older you are, the more likely you are to understand responsibility. This means older adults will likely take extra care to keep their aligners safe.
Improved oral hygiene – Maintaining a good oral hygiene routine is key to successful orthodontic treatments. Adults are often more consistent with dental care than teens, so you're Invisalign treatment is more likely to succeed.
As you can see, there's no age limit for Invisalign treatment. Speak with your dentist about treatment today so you can get started on your journey to a more beautiful smile!
About the Practice
Having a crooked, uneven smile can do a number on your confidence. Luckily, Dr. Rodney L. Allen and his talented Parker team are here to provide you with the treatment you need to gain a more functional smile. No matter how old you are, he can help you determine if Invisalign is the right option for you. The smile of your dreams is within your reach! Call his office at (720) 851-6784 or visit his website for more information on Invisalign or to set up an appointment.