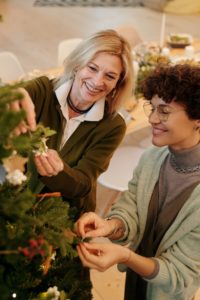 After staying home for the holidays last year, you have another reason to smile as you gather with your friends and family to celebrate the season. You used your time at home to replace your missing teeth with dental implants. You won't have to skip your favorite foods or hide your smile in family pictures any longer. Here are 5 reasons to be thankful for your dental implants.
1. Look and Feel Your Best
Gaps from missing teeth aren't the focal point of your smile anymore. Your dental implants closely mimic your real teeth – both functionally and aesthetically. Whether you're chatting with a friend, taking a picture, or sharing a meal, you will enjoy every moment, thanks to your newly restored smile.
2. Unmatched Support and Stability
You'll never have to worry about slipping or irritation ever again. Posts are surgically placed into your jawbone to serve as roots, which anchor your restorations in place. Your replacement teeth will feel real, so you can savor all your favorite seasonal dishes, including meats. Dental implants can restore up to 70% of your natural biting force; however, you'll want to cut tough meats into small pieces to make them easier to chew.
3. Long-Term Investment
Unlike traditional prosthetics, dental implants are designed to last for a lifetime. They are proven to thrive for 30 years or longer with the right care, like maintaining your oral hygiene and visiting your dentist regularly. You can rest easy knowing your new smile will serve you through the holidays and beyond.
4. Lower Oral Health Expenses
A lot of people are looking for ways to cut their expenses during the upcoming year, but you are already one step ahead because you've invested in a dental implant. Reproducing both the root and crown preserve your jawbone to stop common issues associated with missing teeth, like cavities, gum disease, and additional tooth loss. Not only have you rehabilitated your smile, but you have also taken steps to reduce your long-term dental expenses. You'll save money down the road because you won't have to budget for replacements or potential costly treatments.
5. Added Convenience
You care for dental implants just like your natural teeth. You won't have to take your replacement teeth in and out for cleaning or eating, so you won't feel uncomfortable in social settings. You won't even need to pack special cleaning solutions or products if you're heading out of town. Your toothbrush, floss, and an antimicrobial mouthrinse are all you need.
Make the holiday season one to remember by taking a minute to appreciate your dental implants. Don't forget to brush and floss to ensure your new smile lasts for many more years to come.
About Dr. Rodney L. Allen
Dr. Allen has over 20 years of experience in dentistry. After earning his dental degree at the Baylor College of Dentistry, he has completed advanced education programs in implant dentistry. He can treat the most complex cases of tooth loss. If you need an implant dentist, contact our office today to schedule an appointment.