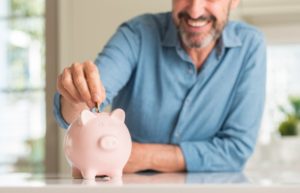 As you've been researching various ways to replace your missing teeth, you've learned that dental implants are the most lifelike solution by a wide margin. They look and feel just as natural as the pearly whites you lost. However, you've also learned that dental implants are more expensive than traditional dentures and dental bridges. Although dental implant cost is high, this solution can actually save you money in the long term. Keep reading to learn how!
Factors That Affect Dental Implant Cost
Doing your own research on the cost of dental implants will often give you inaccurate results. Because each smile is unique, the price of this treatment can vary greatly from patient to patient. Some of the primary factors that influence dental implant cost include:
Number of missing teeth – Because dental implants replicate the root structure, they can bring back your full smile no matter how many teeth you're missing. Of course, the more teeth you need to replace, the higher your treatment costs will be.
Preparatory procedures – To ensure your mouth is ready for implants, you may need to undergo bone grafting, periodontal therapy, or other preliminary treatments, all of which increase your total costs.
Dental insurance – Your insurance might not pay for the implants themselves, but it could mitigate other portions of the treatment, such as your consultation. It never hurts to double-check!
How Dental Implants Pay for Themselves
As daunting as the price of dental implants may seem, rest assured that they're worth every single penny! In the long run, dental implants can save you money by:
Lasting for decades – Traditional tooth loss treatments might seem more affordable initially, but they tend to break down after five to ten years at most. You'll need to periodically pay for replacement prosthetics, which can add up over time. Dental implants, on the other hand, can last for more than 30 years with the right care. You shouldn't need to worry about the cost of replacing them.
Requiring no additional maintenance products – Bridges and dentures require you to buy specialized cleaning tools on a regular basis. Dentures also need adhesives to stay in place. Over time, you'd spend a great deal of money on these products. That's not the case with dental implants; you can brush and floss them just like you would natural teeth.
Decreasing your dental care expenses – Since dental implants are easy to care for, they naturally lead to better oral health. This reduces your risk of gum disease and other dental concerns that may require expensive treatment.
Invest in Your Smile Today!
Rebuilding your grin after tooth loss doesn't have to break the bank. Most dentists offer financing options to make dental implants more affordable. Reach out to your dentist today to get started on this worthwhile smile solution!
About the Author
Dr. Rodney L. Allen has been a trusted Parker, CO dentist for more than 20 years. He partners with experienced dental implant specialists in the area to ensure high-quality treatment for his patients. In addition to being in-network with many of the country's leading dental insurance providers, his practice also offers low-interest dental financing through CareCredit. To learn more about your payment options for dental implants in Parker, CO, contact Dr. Allen at 720-851-6784.