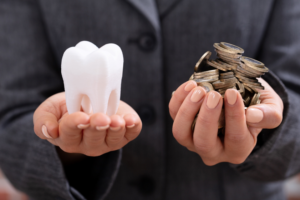 Continual innovations in dentistry allow you to benefit from advanced solutions to treat complex issues, like tooth loss. You can replace your missing teeth using a revolutionary treatment that differs from any other method. A dental implant is the only way to mimic the entire tooth from the root up, allowing you to enjoy a nearly perfect replica of your natural smile. Unfortunately, you've likely heard they are expensive. Although you'll pay more for them upfront, here are 3 ways the dental implant cost will save you money down the road.
1. Never Pay for Replacements
Traditional tooth replacement options are convenient and affordable, like bridges, partials, and dentures. While they are made of durable materials, they won't last forever. Depending on which you choose, they will need to be replaced about every 5 to 10 years. As a result, they may cost you less upfront, but you'll pay more long-term.
You'll never need to worry about paying for new teeth when choosing dental implants. As the most predictable and reliable treatment, they have over a 95% success rate to last for decades with the proper care. They will cost more initially, but you can avoid an expensive dental bill in the future by committing to your oral hygiene and visiting your dentist regularly.
2. Reduce Your Oral Health Expenses
Each tooth is crucial to a healthy, functional smile. Losing even one puts you at risk of additional oral health issues because your teeth will gradually shift from bone loss in your jaw. Research shows you can lose as much as 25% of your jawbone's density within the first year of losing a tooth. Over time, your remaining teeth will drift out of position, increasing your risk of cavities, gum disease, and additional missing teeth.
A dental implant is the only prosthetic to preserve your jaw's density because a titanium post is surgically placed into your bone to serve as a new root. You'll stop dental drift to prevent future oral health issues, so you won't need to worry about an unexpected costly treatment.
3. Boost Your Confidence
You can't put a price tag on a beautiful, healthy smile. Dental implants will instantly boost your self-esteem because they look and feel natural. You'll look younger, intelligent, and professional with a complete smile. You may even be more outgoing because you'll have the confidence you need to speak, smile, and take part in your favorite activities by filling the spaces of lost teeth.
Invest in Dental Implants
Your dentist offers several solutions to treat your missing teeth without draining your wallet, like using your dental insurance and third-party financing. Schedule a consultation with your dentist for a personalized estimate to rebuild your smile.
About Dr. Rodney L. Allen
For over 20 years, Dr. Allen has provided comprehensive dental care to Parker. After earning his dental degree at the Baylor College of Dentistry, he furthered his training at Spear Education. Dr. Allen can treat advanced oral health issues, like missing teeth. Contact our office today to see if dental implants are right for you.