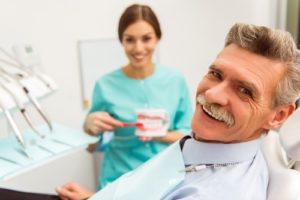 Did you know 1 in 5 adults over the age of 65 has lost all their natural teeth? Despite the latest advancements in dentistry, tooth loss is still a prevalent problem, especially for the elderly. The risk has shown to increase with age, with 26% of adults over 75 having no remaining teeth. While there are many treatments available, 500,000 people per year turn to dental implants to replace their lost teeth. Although you've heard about their benefits, you may not believe they are an option for you because of your age, but this couldn't be further from the truth. If you've reached your golden years, you might still be a candidate for dental implants.
Am I too old for dental implants?
Contrary to what you might have heard, there isn't an age limit for dental implants. Age doesn't appear to affect the success rate of the procedure according to a 2004 study. Instead of focusing on your age, your dentist will consider several other factors when determining if dental implants are right for you, such as:
General health
Oral health
Bone health
Medications
During your consultation, your dentist will review your medical history to ensure there aren't any health concerns that might hinder the success of the treatment, including:
Autoimmune disease
Diabetes
Medications
Gum disease
Osteoporosis
Chemotherapy or radiation of the head or neck
Even if you have any of the above conditions, you may still benefit from dental implants; however, you'll require a more strategic approach when creating your treatment plan.
Will I need any extra precautions?
Your dentist will likely take a few extra precautions to safeguard against any unexpected complications during and after your procedure. Older adults tend to recover from surgery at a slower rate than younger generations. As a result, your dentist may recommend waiting 4 months instead of 3 to give your jawbone adequate time to heal. In addition, your discomfort may last a little longer; however, you can manage it with an over-the-counter pain reliever.
It's not uncommon for older adults to need a few additional treatments before moving forward with the dental implant procedure, such as bone grafting or a sinus lift. The procedures will ensure there is enough bone to support your dental implants. Your dentist will determine if any extra procedures are necessary after performing your consultation and reviewing a CT scan of your oral structures.
Benefit from a Lifelong Solution
Older adults are choosing dental implants to complete their smiles because they are a nearly perfect replica of natural teeth. Age is just a number when treating tooth loss with the most reliable tooth replacement solution.
About Dr. Rodney L. Allen
Dr. Allen is an award-winning dentist supported by over 20 years of experience. Besides earning his dental degree, he has completed advanced training in implant dentistry and classes at Spear Education. He has the qualifications you can trust when choosing dental implants. Contact our office today to schedule your consultation to restore your smile.