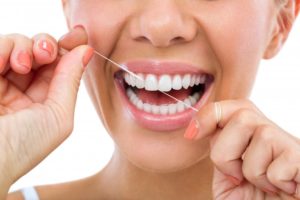 Flossing is one of the dental hygiene pillars, as it helps to prevent the development of plaque and cavities. However, failing to use the correct technique or making other mistakes can be nearly as detrimental as not flossing at all. To ensure you get the most out of your efforts, a local dentist lists 5 common mistakes people make when using dental floss.
#1 – Flossing at the Wrong Time
Timing matters, so make sure you're flossing when it's most important. A key time is before retiring for bed, as saliva production decreases while you sleep. This leaves your mouth more vulnerable to bacteria growth. Flossing will help to remove leftover food and beverage particles that could make matters worse.
#2 – Flossing After Brushing
Many people floss after brushing their teeth. To get the maximum benefits, switch the order. When compared with flossing after brushing, the results of a recent study show that flossing first significantly lowers the amount of plaque between the teeth. By following this sequence, the fluoride in the toothpaste can better coat the cleaned area and provide more protection.
#3 – Failing to Floss the Whole Tooth
To get each tooth completely clean, wrap its sides entirely with floss. One way to accomplish this is by forming the flexible material into a C-shape and sliding it up and down. You should be mindful of cleaning the back of each tooth as well. Therefore, you won't have to worry about any debris, bacteria or plaque going unaddressed.
#4 – Staying Above the Gum Line
Take complete advantage of the pliability and thin structure of floss by allowing it to ascend 2-3 millimeters below your gum line. This helps to remove bacteria that could contribute to gum disease and compromise your tooth health.
#5 – Stopping Because You See Blood
Seeing blood when flossing isn't necessarily an indication that you need to stop. In fact, it's generally a sign that you need to do it more often. It could also be an indicator that you need to revisit your technique. Infected and inflamed gum tissue that bleeds when flossed is typically a reaction to the stimulation, but you shouldn't let this deter your efforts. Over time, flossing will help to shrink the tissue and create healthier gums.
If the bleeding continues, pay your dentist a visit for a checkup. While there, you can also get pointers on the best way to floss. Taking a more proactive approach to your dental health will pay off in the manner of strong teeth and gums and improved total wellness!
About the Author
For over 20 years, Dr. Rodney L. Allen has been offering comprehensive and competent dental care. The Baylor College of Dentistry graduate still seeks to expand his knowledge by taking hours of continuing education annually. Dr. Allen has received additional training at Spear Education, which allows him to provide his patients with effective preventive care at his private practice. He can be reached for more information or to schedule a visit through his website.