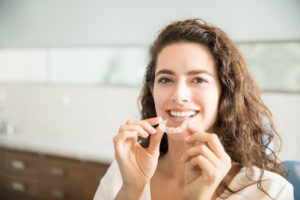 Are you ready to start your journey to a straight smile using Invisalign? You're making an excellent investment in your oral health and your self-esteem using the clear choice in orthodontics. The aligners offer various advantages over metal braces because they aren't affixed to your teeth; however, there will still be a few changes you'll need to make during your treatment. Here are 5 tips to follow to get the most out of your clear aligners.
1. Commit to your oral hygiene.
Your oral hygiene is more important than ever to prevent plaque and food particles from being trapped between your teeth and the aligners. Not only can this lead to dental issues, but also foul odors. Besides brushing and flossing your teeth in the morning and at night, you'll need to use your toothbrush after every meal. In addition to your recall visits, don't forget to schedule a routine cleaning and checkup at least twice a year.
2. Clean your aligners.
Your aligners need to be cleaned at least twice a day using a soft-bristled toothbrush and clear antibacterial soap. Don't use any abrasive products or colored soaps because they can cause your aligners to appear stained.
When your aligners aren't in your mouth, keep them in their storage case to prevent damage and germs. Be sure to rinse your aligners with cool water before placing them back in your mouth. You'll also need to soak your aligners daily to disinfect them and keep odor-causing bacteria at bay.
3. Maintain a balanced diet.
It's best to maintain a balanced diet that's limited in sugars and starches; however, remove your aligners when eating or drinking anything except water. Since your aligners are removable, you can enjoy all your favorite foods, but don't eat with them in your mouth.
4. Change your aligners on time.
On average, you'll switch to a new aligner every week according to the plan created by your dentist. Don't try to rush through your treatment by switching to a new aligner too soon, or you might cause irreversible damage to your smile. In addition, don't wait too long to switch to the next one, or you'll add timely delays to your treatment plan.
5. Wear your aligners daily.
You must be self-disciplined to wear your aligners for at least 22 hours per day. You should only take them out when eating, drinking, or caring for your smile. If you don't wear your aligners long enough each day, you could add delays to your plan.
Commit to a Straight Smile
Clear aligners are the convenient and sophisticated choice in orthodontics. Ensure nothing stands in your way of achieving a straight smile by following your treatment plan correctly.
About Dr. Rodney L. Allen
For over 20 years, Dr. Allen has provided comprehensive dental care using the latest technologies and treatments. He has participated in extensive continuing education programs, allowing him to offer specialty services, like Invisalign. If you're ready to achieve a straight smile with clear aligners, contact our office today to schedule your consultation.