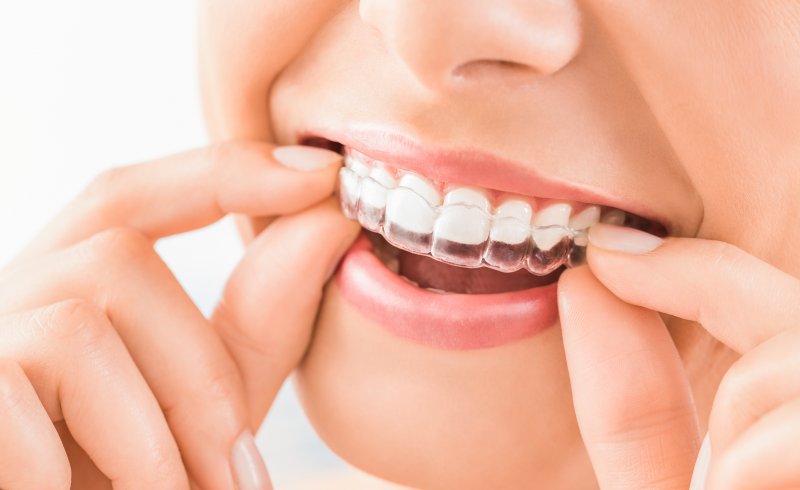 With over 2.5 million patients worldwide and a 96% patient satisfaction rate, it is no wonder that adults and children alike are opting for Invisalign to correct their smile. While previous generations dealt with metal braces and headgear, today's clients can correct crowding, spacing, and issues with their bite through one virtually invisible solution.
However, the looming question of "Does Invisalign hurt?" often holds people back from starting the journey to a smile they love. If you have found yourself wondering the same thing, read on.
So, Does Invisalign Hurt?
In short, the answer is yes. However, most patients describe the sensation as uncomfortable over anything else. While this can be disheartening to hear, it is important to note that Invisalign is considered less painful than traditional metal braces and that the soreness is a sign the trays are working!
What Causes the Discomfort?
Although each patient's pain tolerance is different, the source of the hurt is often the same. Here are three reasons Invisalign can cause discomfort:
Movement of your teeth – Opting for any tooth-straightening solution requires your teeth to undergo an immense amount of shifting. This can cause your mouth to feel tender or a dull pain.
Pressure from the trays – Throughout your treatment with Invisalign, you will be given multiple sets of trays for each new phase of correcting your smile. While it can subside quickly, many patients report pain the first couple of days after putting in a new set.
Irritation from rough edges – The edges of the aligners play a crucial role in their function. However, if they are not shaved down, then they could irritate your tongue, gums, or cheeks.
4 Pain-Relief Options
When pain from Invisalign hits, the top priority becomes finding fast, effective relief. While you should always consult with your dentist first, below are some options that come highly recommended:
Apply ortho wax on the irritated spots.
Switch out the aligners at night.
Have the edges of the trays shaved down.
Take over-the-counter medication when necessary.
Is Invisalign Worth the Pain?
According to the 80% of patients who chose Invisalign over traditional braces, the answer is a resounding yes! In addition to providing beautiful smiles in an average of one year, Invisalign also:
Provides easier cleaning.
Gives clients the option to remove them for special occasions.
Requires fewer visits to the dentist.
Decreases the risk of abnormal wear.
Does not require food restrictions.
Experiencing some discomfort with Invisalign is a small price to pay for a virtually invisible teeth-straighten solution. Don't let potential pain hold you back from getting a beautiful smile you'll love for years to come!
About the Author
Dr. Rodney L. Allen has spent the last 16 years delivering unparalleled service to the people of Denver. With extensive experience in general, cosmetic, and restorative dentistry, Dr. Allen provides every treatment you need for a one-of-a-kind smile that is sure to turn heads. If you have been considering Invisalign, visit his website or give him a call at 720-851-6784.