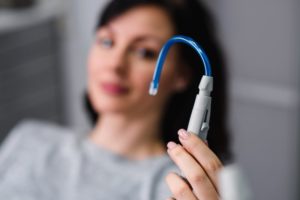 Many patients aren't aware that the spit-vacuum that the dental assistant wields during their cleaning has a massive impact on the safety and health of the practice. Although it seems like its sole purpose is to keep you from drooling all over yourself while your dentist works on transforming or restoring your smile, it has other vital roles to play too. Read on to learn more about dental suction and how your cosmetic dentist uses these tools to keep patients and staff healthy.
What is Dental Chairside Suction?
Dental suction devices draw a large amount of air and saliva into them over a short period of time. They're commonly used during dental cleanings, oral surgeries, and cosmetic treatments to keep patients' teeth and mouth dry while the dentist is completing the treatment. They maintain a constant static vacuum pressure and can contain different-sized openings that impact how much air they're able to suck in at once.
It's also used for infection-prevention purposes as well. Some states in the nation have even required dental suction devices to be used during any treatment involving fast-moving dental tools that can aerosolize saliva particles, making them airborne.
Why Do Dentists Use Suction?
There are several reasons why your cosmetic dentist may whip out a dental suction during your procedure, all of which are to keep you safe and comfortable throughout your treatment. Some of these include:
Prevention of Saliva & Secretion Buildup: Many treatments require your mouth to be dry in order to create an air-tight bond. If there's too much saliva in your mouth, it can impact the strength of the bonding agent.
Protecting the Airways: If you're under sedation during your treatment, the dental suction device can keep your airways unobstructed.
Preventing Choking: The presence of foreign objects in your mouth can cause you to produce additional saliva and result in a fear of choking while you're in the treatment chair. Suction helps remove this additional saliva and make you feel more comfortable.
Removing Aerosolized Viruses & Germs From the Air: Using fast-moving instruments such as polishers can turn your saliva into an aerosol plume. This can cause illnesses and bacteria to become airborne without the use of suction.
What are the Benefits of Using Dental Suction?
Dental suction devices help patients feel more comfortable throughout their treatment and minimize the spread of germs and bacteria that may be present in your saliva. This allows patients to receive dental treatment without needing to worry about their health.
The best way to learn more about what dental suction device your cosmetic dentist uses is to contact them directly or ask about it during your treatment! That way, you can focus on achieving a beautiful, complete grin.
About the Author
Dr. Rodney Allen has been providing exceptional cosmetic and restorative dental care for over two decades. He is passionate about helping boost his patients' confidence by providing them with beautiful, complete grins that they feel proud to show off. He uses the latest dental technology to offer the best possible results. For questions or to schedule a consultation, visit his website or call 720-851-6784.