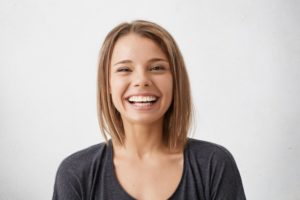 Do you have one or more missing teeth? Are you getting sick and tired of the gaps in your smile? You may have heard about getting either dental implants or a dental bridge to restore your grin. Both options come with several benefits and drawbacks. Let's take a closer look at both choices to help you decide which one might be better for your smile.
What Is a Dental Implant?
Dental implants are biocompatible titanium posts that are placed in your jawbone where your lost tooth once was to perfectly replicate the root's structure. This artificial root is then topped with a lifelike dental crown. Once this restoration is complete, no one but your dentist should be able to tell the difference between your implant and the rest of your natural teeth.
What Is a Dental Bridge?
A bridge consists of several dental crowns strung together. The crowns on the end are placed over your remaining teeth on either side of the gap in your grin. Bridges are able to replace the visible crown portion of your teeth, but they don't replicate the root like implants do.
Reasons to Get a Bridge
One advantage of bridges over implants is cost. Bridges generally are more affordable than implants, and they are more likely to be covered by insurance. Since implants require minor oral surgery and necessitate a strong jawbone, they may not be suitable for everyone. In that case, bridges present a great alternative.
Reasons to Get a Dental Implant
Dental implants are often considered the gold standard of modern tooth replacement. They prevent jawbone deterioration that comes as a result of tooth loss, keeping your face looking young. In addition, they last longer. Bridges typically need to be replaced every five to ten years, while dental implants can last for upwards of 30 years or even the rest of your life.
Although implants might be more expensive upfront, you may end up saving more money in the long run. Bridges have to be adjusted or replaced every decade or so, which can rack up costs that eventually might outweigh the initial cost of an implant.
So, Which Should You Choose?
Ultimately, the choice is between you and your dentist. Dental implants are usually thought of as the best option available today. However, a bridge might be better for your unique situation. In the end, it's best to ask your dentist whether an implant or a bridge would best benefit your smile.
About the Author
Dr. Rodney L. Allen obtained his Doctor of Dental Surgery degree from Baylor College of Dentistry. Since then, he has served the dental needs of the Parker, CO community for more than 20 years. He has taken special post-graduate courses in implant dentistry and is also more than qualified to place dental bridges. To find out which option would be better for you, visit Dr. Allen's website to contact him.