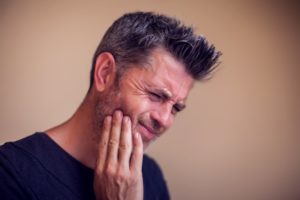 When a toothache strikes, it can become difficult for you to concentrate on anything other than the pain. You should certainly visit your emergency dentist in Parker as soon as possible to receive professional care. But what if you cannot get to your dentist as soon as you would like? In this blog post, we discuss common causes of toothaches and how you may be able to find some pain relief via over the counter methods.
General Pain Relief Ideas
No matter what is causing your toothache, you might be able to find some pain relief by:
Taking ibuprofen. Ibuprofen is an anti-inflammatory, which means it can help to fight swelling and pain. Aspirin and acetaminophen also have anti-inflammatory properties. Whichever medication you choose, be sure to follow recommended dosage guidelines. Also, do not apply any of these directly to the gum line; doing so might cause chemical burns.
Applying ice. By holding a cold compress on the outside of your jaw, you can reduce blood flow to the area and thereby reduce the pain. Ice can also temporarily slow down the activity of nerves that are sending pain signals to your brain.
Applying clove oil. Clove oil has natural anesthetic and antibacterial properties. Dab a clean tissue in the clove oil and gently apply it to your gums.
Relief for Different Types of Toothaches
If you know what is causing your toothache, you might be able to relieve your pain by taking action to address the specific culprit behind it.
Object Stuck Between the Teeth
Take a piece of dental floss and tie a little knot in it. Insert the floss between your teeth and gently pull it back and forth. The little knot might dislodge the offending object. Don't use a sharp object to try to poke the object out of its place; you don't want to accidentally cut your gums or damage your tooth enamel.
Broken Tooth
If your tooth hurts because it is broken or chipped, or because it lost a restoration, you might be able to provide it with a level of protection by placing sugar-free gum or dental wax over it. You should also avoid sugary, acidic, hot, and cold foods and beverages until after your dentist provides treatment.
Infection or Abscess
An infected or abscessed tooth can cause constant, throbbing pain and systemic illness. Pain medication might help to a degree, but your best course of action is to avoid using the tooth and get to your dentist ASAP.
Toothaches are no fun — in fact, they are the opposite of fun. Fortunately, you may be able to find some relief from your pain by using the above tips.
About the Author
Dr. Rodney L. Allen is a dentist with over 20 years of experience. He earned his Doctor of Dental Surgery at Baylor College of Dentistry. Today, he is proud to be Parker's general, cosmetic, and emergency dentist. The next time you have a toothache or other concerns about your oral health, Dr. Allen will be happy to help. Contact our practice at 720-851-6784.