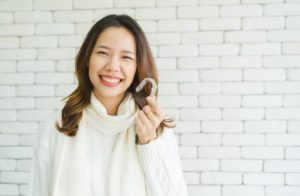 You had braces as a teenager, but you neglected to wear your retainer at night, so your teeth have shifted back into a misaligned position. Since crooked teeth can contribute to tooth decay and gum disease, it's important to seek treatment as soon as possible. Can you still get Invisalign in Parker if you have had braces in the past? What about if you have bridgework, crowns, or veneers? Continue reading to learn the answers to all your Invisalign questions.
If I'm Currently Wearing Braces, Can I Switch to Invisalign?
It depends, but the answer is usually yes. Many dentists these days treat patients with a combination of braces and clear aligners. Depending on the severity of your dental misalignment, your dentist may be able to remove your braces and prescribe Invisalign for the remainder of your treatment. Schedule a consultation with your cosmetic dentist in Parker to learn the best option for straightening your smile.
I Used to Have Braces, But My Teeth Have Shifted. Will Invisalign Fix This?
The answer is a resounding yes! From simple to complex, Invisalign can treat almost any kind of issue with teeth straightening. In fact, many people choose Invisalign after they have already had braces as a discreet option to achieving a more aligned smile.
Will Invisalign Work If I Have Crowns or Veneers?
This depends on your individual case. Again, the best thing to do is book a consultation with your dentist. Tell him or her about all the previous dental work you have had done, including dental veneers and crowns, and then he or she can decide whether Invisalign treatment would be right for you.
If I Have Bridgework on Several Teeth, Will Invisalign Still Work?
Invisalign aligners are meant to move each tooth one by one over the course of several months. Because of this, it may not be compatible with dental bridges, as they connect two or more teeth. As mentioned above, you'll have to talk to your dentist about any and all dental work you have received to see if Invisalign will work with them.
Everyone's smile is different, and therefore has different needs. Talking to your dentist about your individual smile requirements is the best way to determine whether Invisalign would benefit you.
About the Author
Dr. Rodney Allen has been a dentist in Parker, CO for 20 years and counting. Before moving to Colorado, he attended Baylor College of Dentistry in Waco, TX. His favorite part of the job is building lasting relationships with patients and seeing their healthy smiles blossom. To get started on straightening your smile with Invisalign, you can contact Dr. Allen via his website or by calling (720) 851-6784.