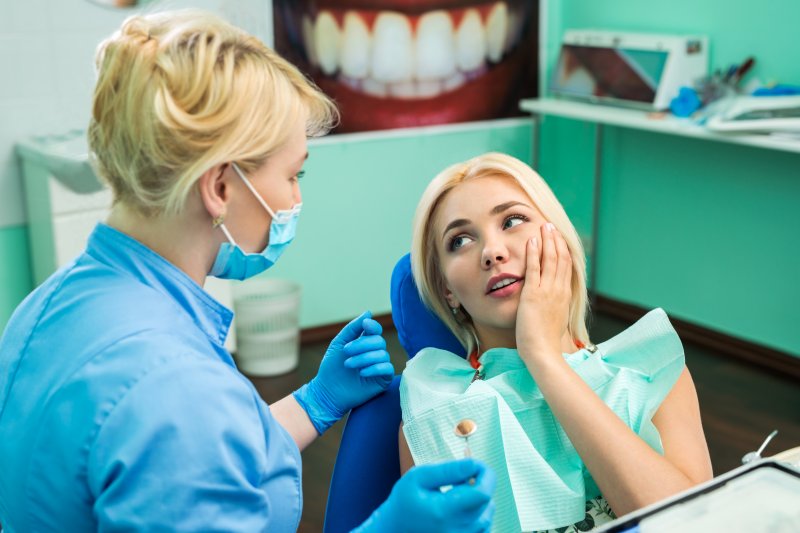 You've got plans to take your partner away for the weekend. While thinking about the fun activities you have planned during a leisurely bike ride, you suddenly hit a rough spot in the road and go flying off your bike. Hitting the pavement, not only do have scraps on your hands and legs, but you've knocked out a tooth. What great timing! While it might seem that a trip to the ER is a reasonable option, there are reasons why you should stick to receiving treatment from your emergency dentist in Parker. Read on to learn why you will have a more thorough and personalized experience if you wait to see a dental professional.
What Warrants a Dental Emergency?
There's nothing worse than having a dental emergency occur, especially when you have plans. Unfortunately, accidents happen, and when they do, it's important you understand how to handle the situation without making the problem worse. The first thing you should do is determine if what you're experiencing is an actual emergency. Some common types of injuries seen and treated by dentists include:
A lost dental crown or filling
Knocked-out tooth
Chipped or cracked teeth
An infection within the tooth or gums
Damage to the soft tissues of your mouth (i.e. lips, tongue, gums, cheeks)
Restoration damage
If you are experiencing any of the above-mentioned items, you should call your dentist in Parker immediately. While it may be possible to schedule an appointment for you to come in as soon as possible, it might be that based on the information you provide, you can take appropriate measures at home until they're able to get you in to see the dentist.
Dentist Office or ER: Which is Better?
So, you're probably saying, "Well, if the dentist can't get me in immediately, why not just go to the ER?" Although a normal reaction, it's actually not the best idea. That is unless you have continual bleeding that will not cease, or you've fractured or broken your jaw. In these situations, get to your local emergency room.
The reasons you should stick to seeking treatment by your emergency dentist are many, some of which include:
A dentist is trained to handle dental emergencies. They've seen it all and have the proper tools and equipment to thoroughly and effectively treat everything from dental infections to knocked-out teeth.
You'll receive a personalized treatment plan to handle your injury. Depending on the case, your dentist can immediately map out some suggested solutions to make sure your oral health is not hindered long-term.
Your dental team can provide you with at-home techniques and step-by-step instructions on how to handle the situation until you see a dentist. If you visit an ER, you'll be sitting in a waiting room for hours doing nothing to help your problem.
When it comes to dental emergencies, leave it to the professionals. Yes, an ER is the best place to go for certain medical problems and accidents, but unless it's a broken jaw or uncontrolled bleeding, let a dental professional take care of your oral health.
About the Author
Dr. Rodney L. Allen, attended Stephen F. Austin State University before earning a Doctor of Dental Surgery at Baylor College of Dentistry. He offers comprehensive services for the entire family, and his expert team provides the highest level of patient care possible. If you're faced with a dental emergency, don't hesitate to contact his office. They can walk you through step-by-step how you should handle the situation until you can come in to see Dr. Allen. To learn more about him or the services offered, visit our website or call (720) 851-6784.