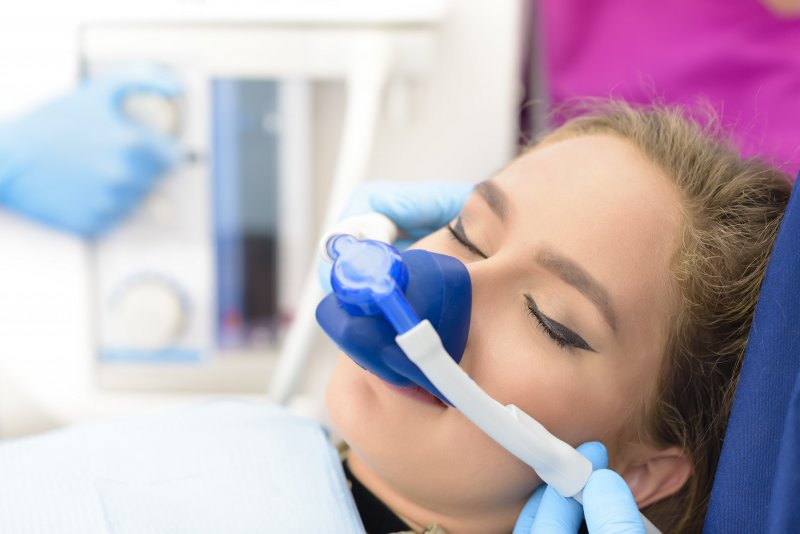 Did you know that some statistics estimate that roughly 60% of people have some form of anxiety or fear when it comes to the dentist? Many patients may try to avoid appointments altogether, which can be a major detriment to their oral health. Luckily, there's a way to make these visits more comfortable; here's how a sedation dentist in Parker can use nitrous oxide to help nervous patients.
What is Nitrous Oxide Sedation?
Nitrous oxide is a colorless and odorless gas that can be used to put a patient in a more relaxed state; it helps create a feeling of euphoria in the body that reduces fear. A nasal mask is used to deliver the gas, which takes effect within 3 minutes. The dose can be adjusted as needed during an appointment.
Note that this form of sedation does not put you to sleep; you'll still be conscious and able to respond to requests from the dentist. The treatment is simply to help you to remain calm.
When is Nitrous Oxide Used?
Nirtous oxide is the most commonly used form of dental sedation and is often used for patients who are nervous or afraid of receiving dental care. It can also be used during certain dental procedures, usually in conjunction with anesthesia.
Is Nitrous Oxide Sedation Safe?
When used in appropriate amounts, nitrous oxide is perfectly safe to use. While there can be drawbacks and negative side effects when too much is inhaled at once, your dentist in Parker will help ensure that you don't receive more than the necessary amount.
There aren't usually any negative side effects of nitrous oxide, although headaches can result if oxygen is not received within five minutes of turning the gas off. Make sure to only eat small meals before your appointment; too much food in the stomach can lead to nausea when sedation is received.
How Long Does Nitrous Oxide Sedation Last?
One of the advantages of nitrous oxide is that it wears off quickly; you'll only need to wait a few minutes after the appointment is complete. Afterwards, you'll be alert enough to drive, which is convenient for people who need to get back to work following their appointments.
Whether you're a child or an adult, nitrous oxide can be a great way to keep your dental anxiety under control while you get the preventive care you need. Speak with your dentist beforehand about sedation options. They'll provide you with any specific instructions you'll need to follow in order to prepare for your appointment. There's no need to be embarrassed; plenty of people are nervous about going to the dentist, but overcoming these feelings is an important step in protecting your smile.
About the Author
Dr. Rodney L. Allen is an award-winning dentist who has been practicing for 20 years and counting. He sees patients of all ages and offers nitrous oxide sedation for anxious patients. He also provides plenty of preventive dentistry treatments, including fluoride and dental sealants. To schedule an appointment, visit his practice's website or call (720) 851-6784.