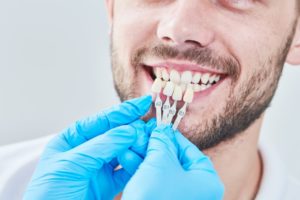 Whether you're dealing with chipped and cracked teeth or discoloration, there are a few cosmetic options out there that you could choose from. But how do you know which one is right for you? You're tired of being embarrassed by your smile and want to be proud of it instead. Lucky for you, whether you get bonding or porcelain veneers in Parker, both methods are fast and easy. Renew your smile by concealing its imperfections. Read on to learn the difference between the two treatments and which one would be the best fit for you.
Cosmetic Bonding
Dental bonding repairs fractured, chipped, and cracked teeth by using a tooth-colored composite resin. If you're conscious of gaps and misshapen teeth, this procedure could also be the perfect solution for you. Your dentist will match the resin to the color of your natural teeth and shape and bond it to your tooth to cover any imperfections.
Is Dental Bonding Right For Me?
Bonding could be the right choice for you depending on what you're trying to conceal. They're a great option because the process can be completed in a single visit and looks natural. Some reasons this may be the treatment for you include:
You're dealing with minor cosmetic problems like gaps, chips, or misshapen teeth.
You're looking for a cost-effective and simple cosmetic procedure.
You wouldn't like your natural tooth to be altered too much.
Porcelain Veneers
Dental veneers are a porcelain shells that're custom-crafted to fit over your natural teeth. They resemble the rest of your smile in shape, color, and size and are durable. By being bonded to the front of your teeth, they're able to cover issues like chips and stains to create a seamless smile. For this process to be completed, your natural tooth will have a small layer of enamel removed.
Are Porcelain Veneers Right For Me?
Depending on the severity of your cosmetic issues and what you're looking to get out of this procedure, veneers may or may not be the right option for you. For the following reasons, this could be a great cosmetic solution to fix up your smile:
Veneers can conceal more cosmetic problems than bonding.
Because of advanced dental technology, veneers are practically impossible to notice apart from your natural teeth.
Veneers are more resistant to staining.
They have a long lifespan.
Scheduling a consultation with your dentist can be the perfect opportunity to ask any questions you may have about each procedure. To sum it up though, bonding is a great cost-effective solution for more minor cosmetic issues, but porcelain veneers can solve more problems and offer a longer lasting solution. Discussing your needs with your dental professional can help you form a plan for your dream smile!
About the Author
Dr. Rodney Allen has been providing his community with the highest quality of dental care for over 2 decades. He enjoys listening to his patient's concerns and needs so he can give them the treatment they need to feel more comfortable with their smile. He keeps up with the latest advancements in his field by continuing his education by taking courses at Spear Education. For any questions or to schedule a consultation for cosmetic services, visit his website or contact 720-851-6784.