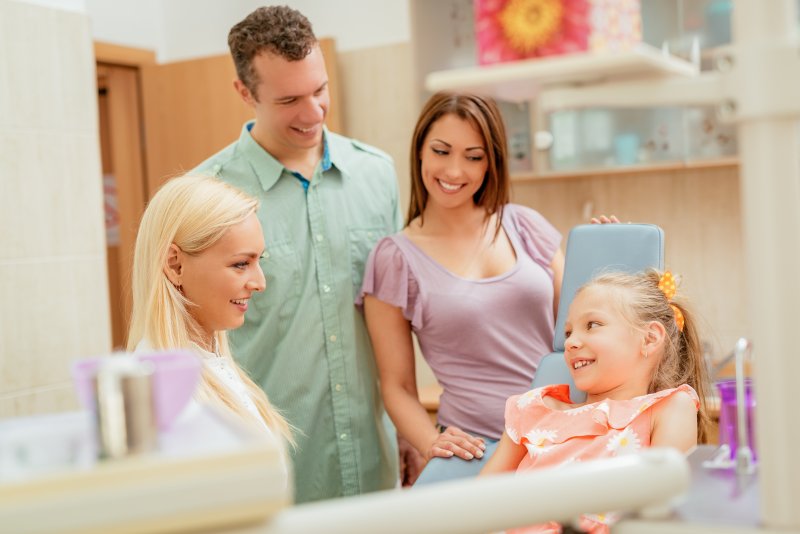 Here's the situation: you just moved to the area, and you're trying to find the perfect dentist for you and your husband, and your children. There are so many options that you become frustrated with the idea of trying to find two, but what should you do? If this situation sounds familiar, or you're simply tired of shuffling your family back and forth across town to different dentists, maybe it's time to look for a family dentist in Parker. Let us explain the benefits of having one great dentist everyone will love.
One vs. Two, Three, Four…
Depending on the size and needs of your family, you may be juggling more than two or three dental appointments in a year. That's enough to make you go crazy! In an effort to stop the madness and give you back your sanity, here are a few reasons why one great dentist is best for the entire family.
Time-saver. Are you tired of looking at your calendar and wondering where you can fit in some "me" time among the sea of dental appointments? By choosing one dentist for the entire family, you can schedule appointments all at one time.
Money-saver. Think about all the gas you're using to make it to all the different appointments. You can literally feel the money slipping out of your wallet and out of the gas tank. With one dentist, you can eliminate all those joy rides and keep money in your pocket!
Comfortable, personalized care. When you find a family dentist who treats both adults and children, you can not only expect personalized care but someone who you are comfortable talking to you about your treatment options and your child's.
Insurance ease. Just that word alone is enough to make you cringe, so why not make it easier on yourself by finding one dentist who takes your insurance instead of trying to find three.
What to Look for in a Family Dentist
Now that you know the benefits of having one dentist versus three, it's time to sit down and really think about what you want from someone who will be treating your entire family. Some great places to start your search include websites. Learn about their services, and read the dentist's bio. It's also beneficial to check out some online reviews to see what others are saying. You can even call the office to speak to someone or stop by for a visit. No matter how you do your research, you should consider someone who:
Offers comprehensive services (preventative, restorative, cosmetic, sedation, emergency, etc.)
Has a location that is close to home
Not only accepts your insurance but who is affordable
Is experienced in a wide array of services and can provide personalized treatment options
Knows the normal progress and occurrences that can arise as your child grows
Is compassionate, kind, and non-judgmental
Stop wasting money! Take the time to find a dentist who is right for everyone you love. Once you do, you'll be glad to have someone who is dedicated to giving you and your family the smiles you deserve.
About the Author
Dr. Rodney L. Allen, DDS, attended Stephen F. Austin State University before earning a Doctor of Dental Surgery at Baylor College of Dentistry. He offers comprehensive services for the entire family, and his expert team provides the highest level of patient care possible. If you're tired of juggling multiple dental visits for your family, look no further than Dr. Allen and his team of professionals. To learn more about him or the services offered, visit our website or call (720) 851-6784.