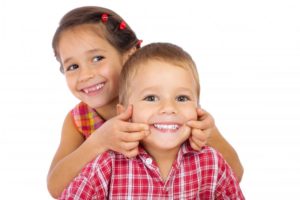 Did you know that cavities are the most common condition for children? In fact, your child is five times more likely to get a cavity than asthma. It is estimated that 20% of children ages 5 through 11 have at least one untreated decayed tooth. That's millions of children! This February, which is National Children's Dental Health Month, let's take the opportunity to learn more about this problem that children face and how to prevent it in the future. Check out this helpful information from your children's dentist in Parker.
Effects on Overall Health
An untreated cavity doesn't just affect that one tooth. It can actually impact your child's overall well-being. For example, tooth decay can cause them pain or lead to infections. Their discomfort can make them to lose their appetite or chew food inefficiently, causing indigestion. If not addressed, a cavity can also interfere with your child's ability to play, speak, or learn. In fact, studies have shown that millions of school hours each year are lost due to oral problems and that children with poor oral health earn lower grades than those with good oral health. Over time, your child could develop depression or attention issues as a result. It's amazing how much impact one little cavity can have.
Healthy Oral Habits
To help prevent plaque from causing cavities for your child, there are certain habits that you can implement into their routine. These critical habits include the following:
Brushing at least twice a day.
Flossing at least once a day.
Visiting the dentist at least twice a year.
Here are some other helpful things that can reduce your child's risk of cavities:
Drink more water over juice or soda.
Consume less sugary foods and drinks for snacks.
Get dental sealants as soon as their permanent teeth come in.
Starting Early
It's never too early to begin teaching your child about the importance of their oral health. Even before their teeth come in, you can use a washcloth to wipe away bacteria. After teeth come in, switch to brushing their teeth. After their first birthday, they should be going to your family dentist in Parker twice a year. By starting these routines while they are young, your child can become more accustomed to the dentist, helping to prevent dental anxiety in the future. Plus, by reinforcing these healthy oral habits early, you help set them up for success in their oral health into adulthood.
By incorporating these healthy habits into your child's routine, you let them know that their mouth is worth protecting. You would do anything for your child, and that includes making sure that they learn how to take care of their teeth. That way, you can enjoy their beautiful, happy, and healthy smile for years to come. For more information about oral health tips for your child, contact your children's dentist in Parker.
About the Author
Dr. Rodney Allen has over twenty years of dental experience, sixteen of which have been in the Denver area. He serves patients of all ages, including children. As a father of two, he knows how to make even the youngest patient feel as comfortable as possible during a dental visit with compassionate, personalized care. To schedule an appointment with him, you can call (720) 851-6784 or click here.