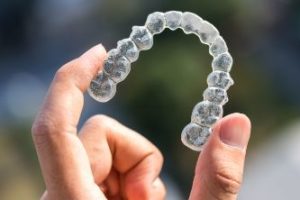 If you've recently started Invisalign treatment to straighten your teeth, you'll soon have a healthy, beautiful smile that you can be proud of – all without having to wear brackets and wires. In addition to being discreet, Invisalign in Parker offers other important advantages as well, many of which are because your aligner trays are removable. But the freedom to remove your trays also makes it necessary to take care of them as well. Keep reading below to find out how to maintain your trays to help you get the best results possible!
How Should You Maintain Your Aligner Trays?
Here are some easy steps you can take to keep your trays in great shape:
Wear your trays for 22 hours per day – By following this rule, you'll be able to finish your treatment in the estimated time and enjoy your new smile as soon as possible.
Keep them clean– To keep your trays clean and fresh, brush them with clear liquid soap or soak them in a specially designed solution from your dentist.
Do well with brushing and flossing – Since you can remove your trays before brushing and flossing, you may as well take advantage of it! That way, you can prevent the cavities and gum problems that people in braces are susceptible to.
Be careful around mealtime – It's not uncommon for patients to wrap their trays in a napkin when eating, only to accidentally throw them away later. To avoid this, store your trays in their protective case during meals.
Only drink water when your trays are in – Beverages besides water can stain your trays or give them an unpleasant odor.
Get regular checkups – As always, it's still important to get checkups and cleanings to make sure your teeth and gums stay healthy.
Is There Anything You Should Avoid While In Treatment?
Although it's much easier to be in Invisalign than regular braces, there are still a few things you should avoid:
When putting in your trays, don't use too much force because you might warp or break them.
Don't clean your trays with toothpaste or denture cleaner because these products can damage them.
Although you remove your trays before meals, you'll still have small, temporary attachments that remain on your teeth to keep your trays in place (some people call them "bumps"). To avoid breaking them off, don't chew on ice and minimize hard foods like nuts or hard candies.
Invisalign is an alternative to braces that gives you fantastic results, without the amount of maintenance required from braces. And by complying with these few guidelines, you'll be sure to have a great experience – from start to finish!
About the Author
With over 20 years of experience as a general and cosmetic dentist in Parker, Dr. Rodney Allen is thrilled to offer his patients Invisalign. He loves seeing the confidence people get from their results and always takes the time to explain how to care for their aligners during treatment. If you have any other questions about Invisalign, he can be contacted via his website or at (720) 851-6784.