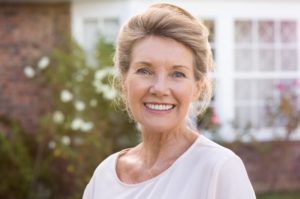 Did you know that 3 million Americans have dental implants? This number is growing by 500,000 people each year, so why are implants so popular? Patients are choosing implants over other replacements for a number of reasons. Keep reading to learn why dental implants in Parker are the ideal solution for missing teeth, what implant retained dentures are, and whether you'd be a good candidate for them from your local dentist.
What Are Dental Implants?
Dental implants are artificial tooth roots that are placed in your jawbone. They naturally bond to your bone to create a supportive foundation for an artificial tooth. Once the implant has bonded to your jawbone, your dentist will create a restoration that exactly matches the color and shape of your natural teeth. This is the closest you can get to natural and healthy teeth for a replacement.
If you're missing a whole row of teeth but still have healthy bone structure, implant retained dentures could be a great option for you. This is a denture that is attached to dental implants for a more sturdy and natural feeling replacement compared to normal dentures.
What Are the Benefits of Implants?
See some of the reasons why millions of people have dental implants below:
Improved appearance: Because implants permanently fuse to your bone, they look and feel just like your natural teeth.
Better speech: Compared to poor fitting dentures that slip when you talk, dental implants allow you to speak and laugh with confidence knowing they're not going anywhere.
More comfort: Since implants truly become apart of your smile, you'll forget they're even there!
Improved self-esteem: Dental implants make your smile whole again, allowing you to grin with confidence.
Easier eating: With dentures, you have to avoid certain hard or sticky foods. Implants allow you to eat all your favorites, knowing they can handle the job.
Durability: Implants last for years to come and with proper care, the implant itself can last a lifetime.
These are some of the more common benefits. Talk to your dentist in Parker to see what kind of benefits dental implants can bring to your specific smile.
Am I A Candidate for Implants?
Candidates for dental implants should have healthy gums and enough bone structure for the implant to be held in place. Additionally, implant candidates should be committed to good oral hygiene and regular visits to the dentist. If you have diabetes, heart disease, or are a heavy smoker, have your health evaluated to see if implants are an option.
If you're looking for a sturdy, natural looking and feeling tooth replacement, you've found the best solution. Contact your dentist to get started on a complete, healthy, and beautiful smile.
Meet the Dentist
Dr. Rodney L. Allen enjoys providing quality care to his patients as he's done for 20 years and counting. He's taken continuing education courses in implant dentistry, so he can provide the best replacement possible. He even offers free dental implant consultation if you're looking into this treatment. He currently runs his own practice where he can be contacted through his website or by phone at (720) 851-6784 for any questions.