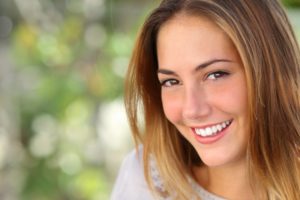 Teeth whitening has gotten extremely popular over the years, which means there are going to be a fair share of myths floating around the internet and your own social circles. Instead of relying on information perpetuated by competition in the cosmetic dentistry space, consider these facts about whitening from an actual cosmetic dentist in Parker. That way, you'll know exactly what to expect when you decide to sign up for treatment.
Busting the myths is the first step to understanding the facts. Here are four myths to start.
Myth #1: Professional Teeth Whitening Damages Enamel
Study after study has proven that teeth whitening does not inherently damage tooth enamel. This is because effective whitening treatments are typically designed to target the structures behind enamel, such as the dentin layer of teeth where many intrinsic stains lie. When teeth whitening is administered by a professional, whether they be a dentist or a hygienist, your smile is in good hands.
Of course, the same can't necessarily be said for store-bought teeth whitening treatments. While some are ideal for the occasional touch-up, you'll want to discuss them with a dentist first before using them long-term.
Myth #2: Activated Charcoal is a More Effective Solution
Speaking of over-the-counter whitening products, there has been a lot of talk about activated charcoal whitening products. While activated charcoal is ideal for removing odors and making produce last longer in your fridge, it's not something that any dentist would recommend. This is mainly because they can't say with confidence that abrasive activated charcoal won't damage your teeth in the process. If enamel is worn down enough, it can actually make them appear more stained as the naturally-yellow dentin layer becomes more exposed.
Myth #3: Teeth Whitening Makes Teeth Look Unnatural
Teeth whitening is designed to be done progressively over time, not all in one go. This is true even for hour-long treatments meant to whiten your teeth multiple shades at a time. Furthermore, at-home whitening treatments are intended to whiten teeth slowly, typically over the course of two weeks.
Teeth whitening can only go so far, meaning there's only so much whitening that can be obtained. You won't have to worry about the risk of receiving a comically white smile, which is more likely the case when receiving cheap veneers.
Myth #4: You'll Experience Extreme Sensitivity
Teeth whitening is not meant to cause significant sensitivity. In fact, sensitivity is more so a sign that your body is having an adverse reaction to the bleaching agents themselves. With that being said, teeth whitening can cause very minor sensitivity depending on the ingredients used and the person's enamel. If this is concerning to you, ask the dentist if their whitening treatment uses carbamide peroxide or amorphous calcium phosphate, both of which work to reduce sensitivity.
Don't let myths drive your decisions. If you're looking for a brighter smile; a cosmetic dentist is here to help. Schedule a dental appointment today to learn how teeth whitening in Parker can enhance your appearance this year!
About the Author
Dr. Rodney L. Allen earned his DDS degree from the Baylor College of Dentistry. He offers multiple forms of teeth whitening in order to provide patients more convenience without sacrificing quality. To learn more about his cosmetic treatments or practice, you can contact him through his website.