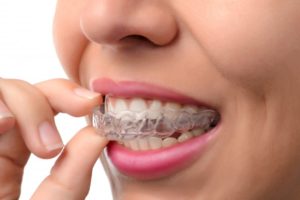 For a while now, you've been longing for the smile of your dreams. You've even fantasized about what it would be like to stand in front of a camera with no sense of inhibition – no concern for how to position your lips to hide your imperfect teeth – this is your dream. But it doesn't have to just be a dream anymore because you have options. Two of them are traditional braces and Invisalign of Parker, and your dentist has information on both processes. Continue reading to gain insight into which route to take.
How do Traditional Braces Work?
Traditional braces correct gapped, misaligned or crooked teeth using metal wires and brackets. They are installed by your dentist and are adjusted once a month to continue correcting your smile. This method is definitely effective but has limitations that people have come to accept and live with, so that they can get the smile of their dreams. Some of them are as follows:
Food Restrictions – There are certain foods that must be avoided when wearing traditional braces because they can break the wires.
Oral Hygiene – Because traditional braces are permanent fixtures, they affect the way you practice oral hygiene. The most glaring inconvenience is that they don't allow you to floss, which is the best way to remove bacteria between your teeth.
Appearance – Another reality that wearers of traditional braces have to accept, is the appearance of having bulky metal brackets in their mouths.
What Do Invisalign Aligners Offer That's Different?
Invisalign aligners are clear, BPA-free plastic trays that offer the same benefits of traditional braces but don't require any return visits to the dentist in Parker for adjustments. This is because all of the trays will be given to you at once. So you'll wear each set for two weeks and then discard them for the next set in the sequence, continuing with this pattern until the last set of trays is worn.
Here are some of the other advantages of choosing Invisalign of Parker North:
Eat What You Want – You can eat what you want because your aligners must be removed before you consume any food.
Normal Hygiene – You can maintain your normal oral hygiene practices (including brushing and flossing your teeth) because, again, you can remove your clear aligners.
A Discreet Look – It's not the whole world's business that you are correcting your smile. With Invisalign aligners, you can maintain a discreet look as you work your way towards perfect teeth.
Cost
A final factor to consider is the cost. Metal braces and Invisalign are relatively even in this area, both averaging between $4000 and $5000 for the complete process. To get the best bang for your buck, refer to the comparisons to see which offers the most benefits, then contact your dentist to start the process of boosting your confidence through a perfected smile.
And remember, that dreams do come true.
About the Author
Rodney L. Allen received his undergraduate degree from Stephen F. Austin University and then went on to earn his Doctor of Dental Surgery degree from Baylor College of Dentistry. He practices at Rodney L. Allen, DDS and can be reached for more information through his website.