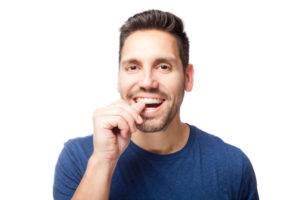 Want a straighter smile, but you don't want a mouth full of metal or years of orthodontist visits? You're not alone. At the Parker dental office of Rodney L. Allen, DDS, we offer a subtle, comfortable alternative to traditional bracket and wire braces – Invisalign. Using a series of clear, plastic alignment trays, our team will create a flawless smile you'll feel confident sharing on every occasion, even during your treatment! Contact our team to schedule an Invisalign consultation or keep reading to find out more.

What is Invisalign?
Invisalign is a clear braces system that uses subtle alignment trays to shift teeth into their ideal alignment over the course of about a year of treatment. No need to spend months or years with metal brackets and wires marring your smile. Innovations in the techniques and materials used for Invisalign orthodontics have made it possible for more patients than ever before to straighten their teeth using a clear braces orthodontic system.
How Does Invisalign Work?
Patients visit us, and our team will capture dental impressions and x-rays. We'll use this information to design a treatment plan to move teeth into their ideal alignment using a series of alignment trays. Each set of aligners in the series represents one step closer to the desired end result. Worn for about two weeks, the aligner will shift the smile into this new position, and patients simply exchange their current set of aligners for the next set in the series.
How Long Does it Take?
Total treatment time is typically ten to twelve months, which is significantly shorter than the two or more years it takes to complete traditional orthodontics. Additionally, Invisalign requires fewer, shorter checkup appointments than traditional orthodontics, so during treatment, patients save time as well. Because the alignment trays are removable, patients don't have to worry about changing their diets or spending extra time on oral hygiene either. Simply remove aligners while eating, brushing, and flossing.
Am I an Invisalign Candidate?
Invisalign is an option for more patients than ever before. Continued innovations in materials and treatment methods mean alignment tray orthodontic systems can correct serious alignment issues like over, under, and crossbite, as well as correcting minor concerns. Still, not every patient is a good candidate for Invisalign orthodontics. The only way to know for sure that Invisalign can correct your smile alignment concerns is to schedule an orthodontic consultation with our team. We'll examine your smile, explain your options, and help you make the right decision for your unique smile alignment concerns.