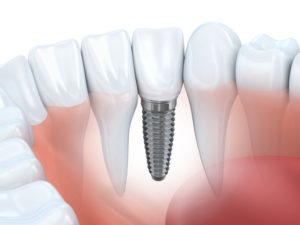 When you live with tooth loss, you quickly notice your quality of life starts to decline in several areas. Not only does your self-esteem become lower, but your incomplete smile will start to cause you additional complications as time goes on. It is not uncommon to start avoiding many of your favorite foods as they become too difficult to eat. You can develop difficulty pronouncing words, while also noticing your oral health starting to falter. Now, you can permanently replace your lost teeth with dental implants in Parker. Dr. Rodney Allen will restore your smile with an effective solution.

Why Do I Need to Replace My Missing Teeth?
Although you live with the challenges of tooth loss, you may not be aware of the hidden consequences that can occur if you do not replace them. When you leave the issue untreated, it causes you to lose bone density in your jaw. Over time, the lack of support will cause your remaining teeth to shift out of position and eventually fall out. Dental implants are the only prosthetic that stops bone loss to protect your oral health from further damage due to the use of an implant post.
How Can I Replace My Teeth with Dental Implants?
If you are ready to complete your smile, you need a consultation with your dentist in Parker. Dr. Allen will ensure you are a candidate for the procedure and create a customized treatment plan. Generally, as long as you have healthy gums and enough bone density to support the dental implant, you can benefit from the treatment. In some cases, you may require additional measures prior to beginning the implant placement, such as bone grafting or tooth extraction.
During the first phase of treatment, a biocompatible titanium implant post is surgically placed into the jawbone. Your body naturally accepts the material to create a secure bond to the post. This allows the implant to last a lifetime while closely functioning like a natural tooth.
A few weeks after the post is placed, you will have a second minor surgery to attach an abutment to the post. This acts as a connector piece between the post and the dental crown. After your gum tissue has healed, a custom-made restoration is placed on the abutment to complete your smile.
How Much Do Dental Implants Cost?
The cost of the procedure varies based on several factors, such as the materials used, your dental insurance coverage, and if any additional treatments are needed beforehand. While they do tend to cost more than traditional prosthetics, like dentures, they allow you to make a long-term investment as they will last a lifetime. Dr. Allen will help you understand your options to pay for your new smile, including any aspects of the treatment that your insurance may cover.
Where Can I Get Dental Implants?
If you are ready to improve your oral health with a complete smile, contact our office today to schedule a consultation with Dr. Allen. We look forward to seeing you smile.